Podcast: Play in new window | Download (Duration: 38:03 — 17.6MB)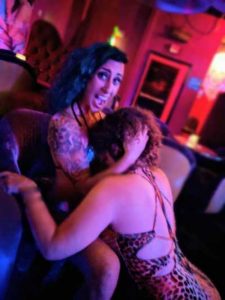 During Naughty in Nawlins 2017 (one of the largest swingers events, in New Orleans), misses Puppy and Jon ran into our instructor for the "erotic wrestling" class.   She turned out to very cute, great a giving lapdances and an all-round awesome person.  We sat down and chatted about kink, polyamory, bi-sexuality, penis size, wrestling, stripping (including "pole burn") and porn.
Andre Shakti is a journalist, educator, performer, activist, and professional slut living in the San Francisco Bay Area. She is devoted to normalizing alternative desires, de-stigmatizing sex workers and their clients, and not taking herself too seriously. Andre wrestles mediocre white men into submission and writes about sex work, queerness and non-monogamy for Cosmopolitan, Thrillist, MEL, Vice, and more. She can frequently be found marathoning Law & Order: SVU under a chaotic pile of partners and pitbulls, and yes, she knows how problematic that show is. Visit her on Twitter @andreshakti, on FB as "Andre Shakti", and at AndreShaktiXXX.com (NSFW).
Shout-out to podcast "Two or More to Tango"