What's a podcast anyway?
Imagine getting new "radio"-style talk and music shows to listen to on your iPod or other MP3 player every day. You wake up and automatically have new shows ready to listen to while you exercise or commute to work. This is the podcast listening experience.
You're about to see how you can find a huge variety of new and interesting content from the internet to fill your MP3 player for free.  You don't have to wait to hear something that interests you. You choose what you want to listen to, where and when.
If there is a episode you don't like, you can press a single button and move onto the next one. You're in total control, all the time.  (Sounds a bit BDSM-y if you think about it)
How to subscribe
You don't need an iPod to listen to podcasts. In fact, all you need is a computer. Transferring the podcast to your portable mp3 player is optional.  You only need to subscribe to any given podcast one time. After that, new issues will automatically be downloaded to your computer.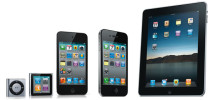 Apple
All "i-devices" come with a copy of iTunes which fully supports podcasts.
If you have one of those, click here to subscribe and follow the instructions.
Android
Get an Android Podcasting application now
Everything else
In any other podcast player, just select "Add a podcast" and enter this URL:
/podcast

Stitcher
If you prefer not deal with subscriptions, a simple solution is to use "Stitcher", which is available on all devices (and on the web).