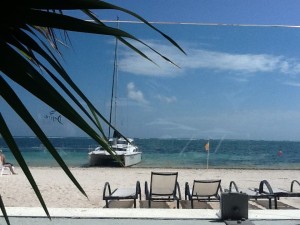 The resort was never exactly slow, but as Lisa sat down for a late lunch in the cantina she marked that it wasn't nearly as lively as it was last night.
She scanned the menu that the waiter had left, musing to herself over his tanned skin and athletic build, wondering what Bob would think if she told him she wanted to kiss the waiter!
The lunch choices all looked delightful but she settled on half a sandwich with a house salad. She didn't know exactly how long Bob would be at the conference today and she didn't want to be too full of he wanted to go to dinner.
She normally ate earlier but she had slept in, the sounds of the waves crashing against the shore like a lullaby to her. When she had finally woke, there was a note on the nightstand from Bob. Seems her lovely husband had scheduled her for a pedicure and a massage in the spa. Continue reading →