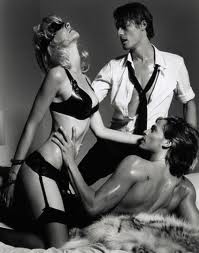 I have never done anything like this before... I am going to a play party with the intention to fuck as many men as possible! My friends, who organized the party, have called it a "Ladies' Choice" party...but really, it's just a gang-bang. I'm excited and scared at the same time.
At the beginning, we're all milling around in the hotel lounge before play starts. There are some amazing people here...couples and singles. I see 2 or 3 that are definitely on my "to-do" list.
At play time, I'm heading upstairs with James and Lorri. She's just gonna watch us for a bit and that is a huge turn on for me.
James has already undressed while I'm talking to Lorri. He's hard...and that makes me even wetter. He starts kissing me and reaches down to take my dress off, taking his time with the hemline.
Dress is finally off and he pushes me down on the bed. He looks at me with such hunger, I shudder. I am expecting him to climb on top of me, but he kneels on the floor and spreads my thighs.
He goes straight for my clit and I cry out. His tongue alternates between fucking me and teasing my clit. Within moments, I'm writhing and begging for him to tip me over the edge...I'm so close. In response, he sucks my clit into his mouth and inserts 2 fingers in my pussy. He knows JUST where they go, too! I'm screaming and squirting almost immediately.
As I come back down, I hear a gentle "may I join in" from above my head. It's Don...someone else on my list. 😉 "Yes, please," I breathe.
While James's going down, Don kisses me from above. His hands find my nipples and start playing with them...just the way I like. Not too gentle...he is exactly rough enough. He leans down to suck on my breasts, and I grab his cock in my mouth.
This is something I've never experienced before...mouth and fingers at my pussy, a cock in my mouth, his mouth on my tits and a 3rd man joining in and lavishing attention anywhere he can. I reach my hand out to the 3rd and grab his cock and start stroking. He's long and hard...I sure hope he's inside me at some point!
James stops eating me and I whimper at the loss. He's up on the bed beside me...I then have Don in my mouth, James in my left hand and Jesse (3rd) in my right. I hear James open a condom and I switch my hand to his balls.
All 3 guys move so that James can start fucking me. I cum as he enters on one hard stroke.
I'm sucking Jesse as Don leans down to tell me he'll be back...I assume he's gone back to his wife, Jeannie. 😉
As James fucks me, I'm drifting in and out of awareness...the sensations are mind-blowing. The adrenaline flowing through me is a total rush...all this attention has me out of this world.
After a really good fucking, James takes a break and hits the shower and Don comes back to the bed...He's on the pillows and Jesse's at the foot, kissing my legs and caressing me.
I'm not sure how or why, but Jesse moves away and I'm left with just Don. He's caressing, tweaking my nipples, and kissing me. His hands move down my body and he starts fingering me...as I cum and start squirting, someone puts a towel under me (such thoughtful guys!) to keep the bed protected. What an amazing thing...squirting and cumming so hard while sucking on a guy's cock. YUM.
Don lets me come down for a minute while he puts on a condom and moves to fuck me. I am so ready for him that he groans at the sight. I close my eyes as he enters me. He feels amazing. While my eyes are closed I feel a woman's hair brush my belly...and I open my eyes just as Jeannie lowers her mouth to my nipple. As I gasp, her hand moves to tease my clit while Don fucks me. She stops sucking my tit long enough to tell me how much she loves my piercings because they're like hers.
I reach out to caress her as she puts her mouth back on me...my hand finds the bar bell on her clit. She's quite wet! I tease her until she cums. She moves out of my reach while she catches her breath and Don starts kissing her while he's pumping inside me. I explode at the erotic scene.
Time for a break, we all spend a moment recovering. I hop in the shower and then get dressed. Surveying the scene in the room, I decide to head back to the main suite and find Alex, my lover.
Alex is sitting with Rose on his lap. She's a beautiful, curvy blond and I love watching Alex's face. Rose's being fondled by another man and Alex's "holding her steady" with his hands on her breasts. What a great thing to watch!
I go sit on the floor next to them when the other man is done playing...I start caressing both Rose and Alex. Lazy smiles all around.
Rose mentions to Alex that she'd like some more time with him...and me. So we go to find space and she invites Tom, a newbie guy. He's young, so no worries about his stamina. 😉
At first, we're all focused on Rose. God! I LOVE watching Alex please and fuck other women! My favorite moment is when Rose's on all fours, sucking Tom and Alex fucking her. I'm perfectly happy to watch when Tom reaches out and starts playing with my nipples, fascinated by the piercings. His hands get more insistent as Alex's thrusts get harder and faster. Rose's no longer sucking Tom's cock as she's screaming and moaning while Alex pumps.
Tom's hand moves down between my legs and spreads the wetness around. His fingers slip inside just as Alex cums inside Rose. At that moment, Rose's also cumming so Tom decides to hit my clit...what a sight it must be...4 on the bed and 3 of us cumming at the same time. 🙂
Alex gets called away after a moment, leaving the 3 of us alone on the bed.
Rose and I both lean down and start sucking Tom's cock...running our tongues up and down and around... his hips start thrusting and he tells us to move...
He wants Rose on her back, pussy toward him, and me between his legs, sucking him. We gladly comply.
As my lips close on him, I groan. He is hard and tastes heavenly. I run my tongue against the sensitive skin at the tip, causing him to grow harder and moan in pleasure. As my head bobs on his cock, he calls Jesse over and tells him I need to be fucked. I raise my head and enthusiastically agree.
In order for him to be on the bed and fuck me, I have to move forward so that I can't finish the blow job for Tom. Instead, Tom asks Rose to spread lube on him and stroke him between my tits as Jesse fucks me.
Jesse feels so amazing in my cunt. I can't keep from squeezing him. He's grabbed my hips and is alternating between slamming like a pile-driver and moving ever so slowly. My brain has almost completely checked out, but I try to stay aware of what's happening.
The combination of Tom's cock and Rose's hand between my tits, Tom squeezing my tits around him, and Jesse pounding me while Alex snuggles behind Rose is overwhelming and my orgasm slams into me...I'm writhing and screaming and moaning...this sets off Jesse, who cums with a final slam into me. Tom follows very quickly, shooting cum all over my chest and his.
When we're done, we all practically collapse on top of each other and cuddle for a bit as we recover.
As I am getting dressed, Barry asks me to play so we head into another room for some 1 on 1 time.
Barry is one of my favorite play partners and he knows how to both get me worked up and wind me down...all at the same time. For about 30 minutes, he nibbled, kissed, sucked and fucked me...he finally gave in, shooting his load into me...I love when he cums in me...he's one of my BB playmates. YUM.
As Barry's cleaning up and heading into the main suite, John comes in. He says he's there to say goodbye as he's heading out, but one look at me naked on the bed, and he's hard as a rock. I must say, he's a gorgeous piece of art. He's tall, muscular, sexy and dark. His tattoos are amazing, and the way they dance as his muscles contract and move is mesmerizing. (have I mentioned that John is Loni's - our housemate - partner?)
John's approach is reverent. He kisses me slowly and gently lowers me onto the bed. His attentions are mind-blowing. My body responds with a mind of its own...I'm melting with his touch and ministrations. This is our first play experience together and wow! It's short, but that's ok because within seconds, he's hard again.
During the second round, another man comes in...another black man. 🙂 Dave is quiet and sweet and John & I invite him to join.
He chooses to tag-team when John takes a break after cumming again. Dave is slow and methodical. He makes me cum, but isn't as involved mentally as I like. He seems to have realized after he started that he's really pretty much done for the night. He kisses me, says thank you and gestures for John to come back and finish up.
This time, John takes his time with me, licking, sucking and teasing me all over. He slips inside and fucks me hard but slow. Amazing.
My body is ready to stop fucking (unbelievable, I know!) for the night, so I tell John to roll over onto his back...
I slip the condom off and grab some lube. I start stroking him with both hands. Slowly at first, but increasing speed and tension as I go. Without warning, his body tenses and twitches...He cums hard, but without much to give. It is his third time cumming in less than an hour...
After we recover for a moment, John and Dave dress and say their goodbyes.
Fully sated, I head into the shower. I go find Alex and we head to bed.
Sweet dreams.... until next time.