Podcast: Play in new window | Download (Duration: 20:01 — 9.2MB)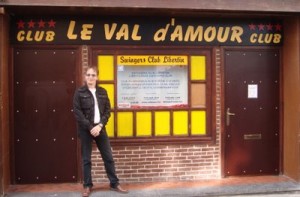 After playing the vanilla tourist in Europe, we decide to revisited a swingers club in the historical heart of Brussels: Val d'Amour (right next to the hotel Floris Arlequin)
After an introductory chat with our hostess, we enter this cozy sex club.  The rules are a little bit different than what we are used to in the US.  You pay an entry fee, but this includes food in the (little) restaurant and  drinks at the bar, including alcohol.   Another difference: You don't usually see a smoking booth in a sex club.
A good time was had by all, we debrief from our intimidate adventures in the (noisy) taxi and the hotel room.  And then we just plain old start fucking again, and brought in SinD's favorite vibrator.
We are having our birthday soon!  Call us on 231 62-BLISS and let us know what you think!
Our featured podcast is Ending the Sexual Dark age