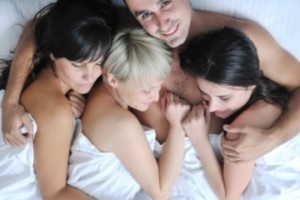 It started out EXACTLY like a porn video does… I drove to my girlfriend Eden's house to drop off some sex toys for her and her buxom friend Adrienne. What happened next was totally unexpected and delicious.
Eden's boyfriend Lex showed up. Tall, handsome, with muscular thighs and a chiseled jawline, he looked like he could model for Patagonia.
We were sitting on the various couches in Eden's living room when Lex laid on his back on the floor.
"Do you mind if I play with him?" Eden asked. I shook my head. Adrienne replied, "Don't let me stop you." So Eden pulled out Lex's long, thick perfect cock and started playing with it.
"May I?" I motioned to his cock. Eden invited me to join in. I stared sucking Lex's cock something good. In less than two minutes he was ready to come and forcing me to pace myself.   Eden climbed onto his face and asked if I wanted to ride his cock.
Hell yeah.
To be honest, nothing sounded better than a big cock buried deep inside me. It has been too long. Eden put on a condom and I climbed on top. And it was like that, with Eden on his face facing me, my face pressed against her tits, and me on his cock, that Lex came the first time.
"Can I eat you?" Lex asked me. He didn't have to ask twice. I laid down on the Persian rug and spread my legs. Lex instantly got down to business, sealing his mouth around my pussy and sucking while licking my clit. His tongue was soft yet insistent and I quickly climaxed. I pushed his head away as the sensation got too intense but her kept sucking me and pretty soon I was riding another wave.  Eden was stroking his cock the entire time and Lex got rock hard again.
Not long after my climax, Lex positioned me in front of him on all fours and proceeded to fuck the living daylights out of my pussy.  I was heaving and quaking from the pleasure and joy of it all.  Eden took a lovely video of the action.
Eventually Lex turned his attention to Adrienne. She exposed her phenomenal breasts to him and he couldn't resist. He crawled naked over to where she sat and started sucking first the left then the right nipple. Her eyes closed and she had a happy smile on her face.
After what felt like hours of watching exquisite tit play between Lex and Adrienne, Eden noticed that Lex's cock was rock hard again. She sat him down in The Chair – an armless, low-to-the-ground chair perfect for fucking in. Lex couldn't keep his hands off her. She was his muse. His lover. His witch. His star.
Lex wanted a little more action with Eden and myself. I asked if I could blow him again. Eden broke out the camera and videotaped it. She leaned in to Lex and he sucked her nipples while he was getting blown by me.
After a while, I broke away and Eden climbed on top of her man. Her pale skin and blond hair glowed in the light against her flushed cheeks. After four glorious orgasms, Eden dismounted and reclined happily on the couch.
Lex sat with his cock stiff and straight. I stepped in and gave him a hand job. Lex escalated quickly.
"I can't cum unless Eden is here," he told me.
I motioned for Eden to come over. She came over to us and with that, she kissed him and he came all over my tits. All over.
I rubbed it in. Ah, the gloriousness of it all! Definitely a repeat in my book.