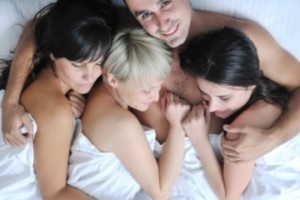 It started out EXACTLY like a porn video does… I drove to my girlfriend Eden's house to drop off some sex toys for her and her buxom friend Adrienne. What happened next was totally unexpected and delicious.
Eden's boyfriend Lex showed up. Tall, handsome, with muscular thighs and a chiseled jawline, he looked like he could model for Patagonia.
We were sitting on the various couches in Eden's living room when Lex laid on his back on the floor.
"Do you mind if I play with him?" Eden asked. I shook my head. Adrienne replied, "Don't let me stop you." So Eden pulled out Lex's long, thick perfect cock and started playing with it.