Hello, how do you do? My name is Victoria S. I live in London, England. I used to know very little about 'alternative lifestyles', beyond a couple of sex and fetish parties I might have gone to just to stare. And reading Fifty Shades. Yes, I confess, I read it. In my defense, I thought it was rubbish.
My curiosity built over a couple of years back home, but I didn't really get a chance to engage more proactively until this year. You know how it starts: a bit of vanilla spanking, you like how it feels… You buy some kinky boots because they make you feel sexy, you find a party to go to where you can wear them… And before you know it, you're flogging behinds at the annual Fetish and Fantasy Halloween Ball in Las Vegas!
It all started in earnest at Burning Man this year. I went there with Mister Bill, whom I had met there last year, and a bunch of his friends from Dragon's Gate. That's how I had the pleasure of meeting the full cast from Bliss Bringers: Mistress SinD, Reverend Jon, Professor Tea and The Captain.
To be honest with you, I was slightly nervous about hanging out with a horde of kinksters and swingers at Burning Man. All they want to do is have sex in huge piles, right? And they do all sorts of weird stuff, right? What if they start making all sorts of innuendos that they want to do weird stuff to me, but I don't fancy any of them or it sounds frankly horrifying?
I guess I was rather reserved – as you'd expect any (sober) Brit to be – and I was pretty good at Burning Man. Didn't get up to any kinky naughtiness. Nope. The extent of my exploration was to attend a BDSM workshop facilitated by Mister Bill, at which Mistress SinD and Reverend Jon were guest speakers. That was pretty enlightening for a vanilla like me. It opened my eyes to the very broad spectrum that is BDSM and that you only have to do the weird stuff if that's what you're into.
If there was just one message I think needs to be broadcast to disperse misconceptions of BDSM, it's that: it's all about finding out what works for you and don't let anyone tell you any differently. You decide. And I decided that I was ready to find out.
Hanging out with my new kinkster and swinger friends really brought that point home. Maybe I've just been lucky, but I felt that there was more respect and awareness of other people's boundaries within that group than, say, going to a vanilla bar or nightclub. So when Mister Bill invited me to come back to the US a couple of months later to go to the Fetish and Fantasy Ball in Las Vegas with him and the Dragon's Gate bunch, I felt safe enough to say yes.
What a hoot that turned out to be! We stayed at this lovely, tiny (by comparison), hotel resort called Rumor. Most of us had rooms on the ground floor facing the pool. We'd just pop into each other's rooms to say hi, have coffee, get their freak on for some!
There were a couple of private parties too, one the day before and one the day after the Ball. There was a room for the swingers and one for the kinksters. Again, I was feeling slightly nervous because I'd never been to one of these parties before. Was anybody going to, uninvited and unwelcome, come onto me real strong and cause me, a Brit, to face the horror of all horrors: an awkward situation? We hate awkward situations where I come from. We have a flustered, embarrassing meltdown when we unwillingly stumble into one.
Well, I shouldn't have worried. Everyone was incredibly friendly and relaxed. Absolutely no pressure. I didn't feel ready to get naked or into any serious play in public and nobody even insinuate that I do. So I spent the evening socializing. Catching up with old friends, making new ones (OK, I made out with two beautiful sexy women. What can I say, I like kissing girls.). And surprisingly, I've rarely laughed so hard in my life. My ribs were hurting and my eyes streaming. I love it when that happens. I say surprisingly because I really did not expect just to have that much conversational fun!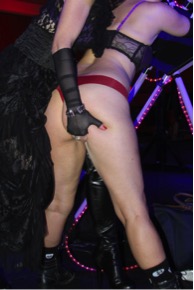 And the day of the Ball brought even more fun. I got to buy a kinky outfit to wear at the Ball, the kind I'd been wanting for a while. All tiny waists, suggestive lace and long kinky boots. My chaperones suggested that I join the Dragon's Gate people who were demonstrating impact play on stage on willing Ball-goers and have a go. I'd never done anything like that before. And I thought, why not? I had the privilege of getting my very own private tutorial with Mister Bill and Reverend Jon who showed me how to do it and I practiced beforehand in the hotel on some cushions! We got to the venue and I got to practice some more on stage as we tied up my favorite sexy lady, Lynn, who volunteered her delightful bottom before the Ball opened to the public.
And so I got to play with a few eager behinds over the course of the night and it was a fascinating and enjoyable experience. What did I enjoy about it? The feeling of power and control, of course. It's… well, empowering. The fun and excitement of giving someone sensual pleasure that they expect yet maintaining the tension of their anticipation of what might come next. But more than that, what I didn't expect was to experience the sense of calm that descended upon me and the genuine compassion that filled me. Compassion and unconditional love for each stranger who walked up onto that stage for a moment of intimate physical connection. It made me realize that being a "Domme" is not all about power and control. Not for me anyway. It's also about connecting to another human being and gifting them what they want or need, with no judgment. And there is responsibility. The responsibility of keeping someone safe. It felt surprisingly fulfilling and an experience I look forward to having again.