Podcast: Play in new window | Download (Duration: 43:31 — 20.0MB)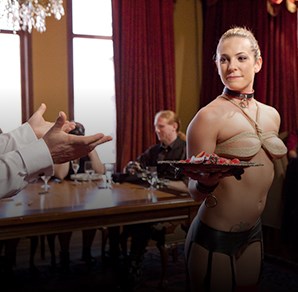 Another  "recap episode", where SinD and Jon try to remember all the adventures since last time!  First up is BondCon, a new conference at "The Armory", home of "Kink.com".  We meet various famous educators, but the misses was most impressed with "Thraje" and Cléo Dubois, and the single-tail whipping skills of "Disciple".
We visit Folsom Street Faire and interview random victims (to great amusement).  It turns out that bi-males do exist!
Misses also adopted a (human submissive) pet, and took her to a swingers party.  This put a spotlight on the differences between protocols and appropriate behavior between the swinger and BDSM/kink communities.    In the later, there is a more strict enforcement of the "ask for consent first" rule, which sometimes gets forgotten by the experienced swingers.  Also,  one has to make sure that one scene does not take so long that one doesn't get laid.  "Cock-blocking" may have occurred, and  Jon got the woman with "worlds most impressive ass" in trouble.
We use Google Calendar to schedule play-dates/training sessions.  Does that mean we are now poly?
Featured podcast: The Swing Wife (Podfaded)