Podcast: Play in new window | Download (Duration: 42:04 — 19.3MB)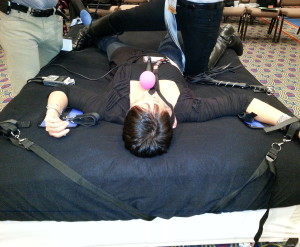 The entire team visits "CatalystCon West 2013", we report at length,... in Bliss Bringer style! That means lots of interviews and talks from the field, and very "hands-on" investigation.
You may have heard some talks about the party in a Life on the swingset episode, but we give you the real scoop.
---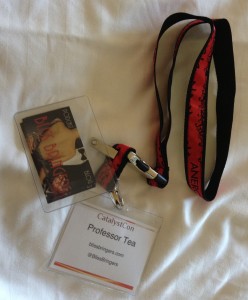 In late September the Captain, SinD, Jon, and I met up in LA to attend Catalyst Con West, a conference designed to open up conversations about sexuality. And oh, did it deliver!
We all learned a lot and we hosted--if I do say so myself--an outstanding party with the Swingset crew. Here's the report.   Of course,we caught some outstanding audio porn on tape that weekend too.
Friday, pre-conference, we did the divide and conquer thing so the Bliss Bringers could be in more than one place at a time. Captain, Jon, and SinD went to Tristan Taormino's "Sex Educator Boot Camp." I took the Exotic Bus to the Wet Factory for the most awesome "Wet Tour."  When we met up again at lunch, they were all excited about what they'd learned that morning. And I had a swag bag full of lube from Wet. Here's a display of all their lube.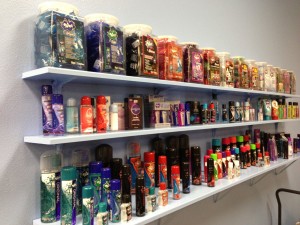 Friday afternoon, Jon and SinD went back for part 2 of Tristan Taormino's boot camp, and the Captain and I set out to touch base with our amazing party sponsors. We had fabulous support from incredible sponsors, and that's a big reason why the party on Saturday night was such a great time.
Sportsheets gave us a SportSheet for the king sized bed.
We had a generous supply of lube from NatureLabs.
Jenna from Tantus gave us a goodie bag full of high quality silicone dildos, vibrators, and silicone paddles for stingy spankings.
Shay from the family business Vibratex added to the fun with the Nimbus (a, shall we say, extremely AMPLE vibrator--more on that later) and a whole bunch of other power toys including a Magic Wand (used to be a Hitachi).
We had condoms from Lucky Blokes.
Neon Wands and other good vibrations from the Stockroom
swag bags and a party banner from Kasidie.com.
Let's just say our sponsors kept us in generous supply. Here's a sampling of what was on offer at the party: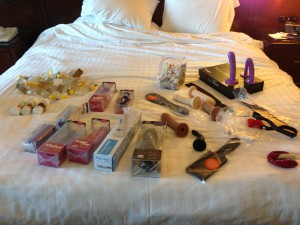 And pretty much everyone at Catalyst Con had a WeVibe because WeVibe gave their new Thrill to anyone who tweeted: "@wevibe I want the award-winning Thrill." Me? I took home a bunch of them!
Drive-by interviews and talks during the day:
During the party  we ran into :
Also check out the second part of the review.