Podcast: Play in new window | Download (Duration: 36:07 — 16.6MB)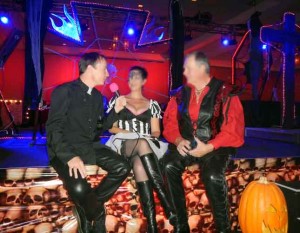 Our gang hits "Fetish and Fantasy" again in Las Vegas.
There is a lot of  spanking and flogging going on stage, as usual.
This year, we have some extra complications:
A gang of "hashers" takes over the hotel and causes havoc while our gang is trying to recover from their own naughty but exhausting activities
Mr. Bill brought along a vanilla friend, who has no idea what is going on.  She gets dunked in our pool of debauchery, while we hope she doesn't drown in the craziness.
Spoiler: She does fine!
We even interview her before and after her experience, which leads to interesting insight into how outsiders view the world of swinging and BDSM, and how the view changes after exposure.