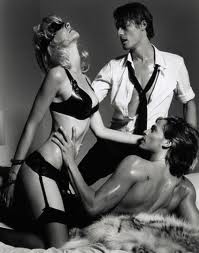 I have never done anything like this before... I am going to a play party with the intention to fuck as many men as possible! My friends, who organized the party, have called it a "Ladies' Choice" party...but really, it's just a gang-bang. I'm excited and scared at the same time.
At the beginning, we're all milling around in the hotel lounge before play starts. There are some amazing people here...couples and singles. I see 2 or 3 that are definitely on my "to-do" list.
At play time, I'm heading upstairs with James and Lorri. She's just gonna watch us for a bit and that is a huge turn on for me.
James has already undressed while I'm talking to Lorri. He's hard...and that makes me even wetter. He starts kissing me and reaches down to take my dress off, taking his time with the hemline.
Dress is finally off and he pushes me down on the bed. He looks at me with such hunger, I shudder. I am expecting him to climb on top of me, but he kneels on the floor and spreads my thighs.
He goes straight for my clit and I cry out. His tongue alternates between fucking me and teasing my clit. Within moments, I'm writhing and begging for him to tip me over the edge...I'm so close. In response, he sucks my clit into his mouth and inserts 2 fingers in my pussy. He knows JUST where they go, too! I'm screaming and squirting almost immediately. Continue reading →