The Fantasy
Fantasies can become a reality with the right person.  Sir (Rev. Jon) is all about fulfilling fantasies.   One day he asked if I had any particular fantasies I might like to try. I laughed and jokingly said "Yes, someday I want to ride you wearing a collar and a leash".  I didn't think it would ever happen.
The night we recorded Puppies and Massages,  Rev.  Jon brought the collar and leash out for the first time.  We had just finished recording and he started the session by placing the collar around my neck then leading me across the room to the spanking bench.  Being so new to BDSM, I wasn't sure if I was mortified or turned on but I went with it. My fantasy became a reality and as I let go it was hot wearing the collar which reminded me I was his submissive.
The next day I wasn't sure how I felt about the collar.  There my feelings were in contradiction, embarrassment that I had worn leash yet had been sexually turned on by it.  I told Sir that I didn't think I was ready for the thick collar that I had tried. I asked that if we ever tried a collar again that it be something much thinner.   He suggested that I pick something out that I was comfortable with.  I was so happy that he was flexible about letting me explore my fantasy.
The Training Collar
I admit, the collar started out a fantasy and not something I really understood the power of.  I went to Petco and selected this little narrow leather collar.  I thought it would be cute so I had a dog tag made. It said Mrs. Puppy on one side and "If found Return to Rev. Jon" on the other.   I gave it to him in a gift bag at dinner at the Lazy Dog restaurant  (yes, we actually ate there).  He seemed amused but had this familiar look that he gives me that lets me know I have no idea what is in store for me. I literally didn't have much intention of wearing it at the time. I thought we would play with it once in awhile when the mood struck.
Before I knew it this little collar which I jokingly selected became part of our ritual to start our scene. Though Rev. Jon engages with me with or without a collar when he places the collar around my neck he is making his intentions clear that he will be taking over control and I will fully surrender during the time I am wearing it.
A few weeks ago I wore the collar to a party and several people thought it was adorable and admired the tag. I felt so proud to wear what I once thought of as a silly fantasy.  At the party we were fully engaged as Dom and sub and the meaning of the collar continued to gain significance for me.
The Perfect Collar
Around that time we discussed my collar and he agreed that it was time for something a little thicker with a little more design.   At his suggestion I started looking online.  I thought he would want to pick the collar but he wanted me to pick something that felt special to me.  He recommended LiquidNymph because they make high quality custom collars. I went to their online shop on Etsy and admired so many collars. I kept trying to get Sir to give me direction but he merely said the collar I chose had to speak to me.
When I chose the first collar at Petco, I was only focused on what I could handle to wear and really wasn't serious about it. This time I felt like I was making a huge decision.  To pick the perfect collar wasn't just about me and what I liked or how I felt.  I wanted a collar Sir would be proud for me to wear as his sub.  I wanted something that was sophisticated but not so fancy it camouflaged the fact that I was wearing a collar.  It took me a few weeks but I found the perfect collar at LiquidNymph.  Kristy Hatton, the designer of my collar was quick to respond to questions about sizing.  She even made sure to contact me after my order was placed to ask my neck measurement so they could remove any excess material to make the collar fit me perfectly.  My collar was delivered in about 4 days. It was packaged beautifully in a small black mesh bag which included a thank you card. I couldn't wait for Rev. Jon to place it around my neck.  When he did, it fit perfectly and I could tell it was the right choice by the way he looked at me.   I can't wait to wear it to an event!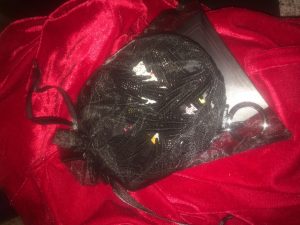 What I once saw as a silly little fantasy has become an important symbol and ritualistic fetish with deep meaning.  When Rev. Jon places that beautifully crafted collar around my neck I know I am his if even for a short time. My passionate surrender ignited by that little snap and the question that follows "Are you ready for this?"