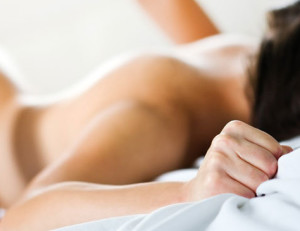 I'm nervous. Tiff called and told me to be ready for dinner and "a surprise". A car will pick me up at 6:00 tonight.
No big deal, right?


Well, then she texted me a VERY specific list of what I'm to wear…
• Sheer black stockings
• Black lace garter belt (good thing I had one!)
• Black heels
• "The dress and accessories that will be delivered this afternoon" (I'm thinking WTF???!?)
• You will NOT wear a bra.
• DO NOT PLEASURE YOURSELF AT ALL TODAY (gasp!)
So, I don't think she's planning a playdate for us, but I could be wrong. Why such specific instructions on how to dress if not?
I go about my day, but I'm distracted. I can hardly focus on work. While on a call with my boss, the doorbell rings. I answer the door and my jaw drops. There is a delivery man at my door. He's holding an expensive-looking garment bag with a small gift bag hanging around the hanger.
Once I gather my wits, I excuse myself from the call for a moment and accept the package. There's a card that says "Do not open until 5pm. Period."
Now, I really can't focus. Thankfully, it's almost 5, so not much longer to wait.
I finish my work, shut down my link to work, and head for the bedroom.
Opening the gift bag, I see a small, but weighty, box. I open the box and freeze. I'm stunned to find a bejeweled set of nipple clamps which connect, via delicate chain, to an interesting infinity-shaped pendant. Given the length of chain, it's mean to hook onto the barbell in my clit hood. Wow. I'm beginning to think Jay's in town and hasn't told me…
My hands are shaking with anticipation as I open the garment bag. The dress is a work of art! All purple lace and satin with crystals adorning various parts. It's gorgeous. It has a halter neckline that will show off my cleavage beautifully. There's also a necklace and earrings that match the nipple clamps. Someone has gone to great lengths for this and I'm getting excited and nervous.
I shower, do my makeup, and get dressed… First, the clamps...I work the infinity over the barbell in my hood then prep my nipples for the clamps. Just setting the charm has me wet! I gently set the clamps in place and savor the feeling for a moment. I've decided that the nipple/clit jewelry should go on the outside of the garter belt and put it on accordingly. I continue dressing…gently rolling the stockings up my legs and attaching the garters…slipping into the black sling-back shoes with the nice 3.5" heels that I love so much…and the jewelry.
I'm so turned on and I start to reach for my clit…Tiff's text pops into my head and I stop just before I start touching myself.
I take a couple deep breaths and calm…sort of.
Now, the dress. I'm almost afraid to put it on, it's so pretty. I get it settled around my neck, breasts and hips, take a last brush at my hair, put on lipstick and admire my reflection. I'm flushed and my pupils are slightly dilated. I'm clearly, visibly turned on. Dinner's going to be an adventure.
I grab one of my wraps, in case there's a breeze and head for the door.
The driver rings the bell as I arrive at the door. Tiff was deceptive about "the car"…it's a freakin' limo!
The driver gets me settled into the back seat and tells me our journey will be approximately one hour to San Francisco.
I'm surprised…Tiff's in Antioch…why SF?
During the trip, I'm too nervous to read, play with my phone, or, well, do anything, so I stare out the window. My mind's racing. What's going on? Where am I going?
What was I thinking???!?!?!
I text Tiff to ask her all of these questions, but she simply says "Dinner and a surprise. See you soon!" ARGH!
We finally arrive in the city and to our destination. It's the Westin St. Francis. I have always loved this place. It's beautifully built and decorated.
Tiff meets me in the lobby. She's dressed quite beautifully in greens that complement her hair and skin. She's gorgeous.
She leads me to the elevators and tells me dinner's in our suite. Oh, and that's part of the surprise…the suite.
Now I'm convinced that I finally get to meet Jay. I don't ask Tiff. I don't want to sound too hopeful…
We arrive at the Presidential Suite and enter. There's a table for 3, complete with champagne, flowers and candles.
I ask Tiff who the 3rd is. She says "I'm sure you know by now. Let's sit and have some champagne and appetizers."
Now I'm really nervous…in an excited way. I'm a bit worried that I'll ruin the dress when I sit…that's how wet I am. I'm positively dripping!
Tiff keeps conversation simple and small and deflects my questions about our host. She's quite good at it!
After a light snack, Tiff tells me to close my eyes for the surprise.
I do as I'm told and try not to fidget too much.
There is silence and a moment passes. Then, Tiff says, "Our host wants to see your lovely back. Stand up, away from your chair, brace your hands on the table and spread your legs a bit. Don't move until you're told."
My pulse quickens as I follow instructions. My nipples are standing at attention, almost painfully, and I'm soaking wet. I need attention. NOW!
Another moment passes in silence.
I feel someone move up behind me. A man. He's warm and smells divine…spicy, delicious. My hair is gently swept to one side and I feel his breath on my neck. I shiver at the sensation.
A familiar voice whispers in my ear "You're even more beautiful in person, Shoshi."
I inhale sharply at the sound of his voice. I feel myself blush wildly as I breathe "Thank you, Jay." He places a small, chaste kiss on my shoulder and moves away. His absence leaves me cold and I want him back.
I hear Jay sit on the couch on the other side of the sitting room just as Tiff tells me to move with her, but not open my eyes. A whimper escapes me at that last instruction. I want to see Jay. Our poor Skype sessions have not been enough.
"None of that, Shoshi, or you'll go home," Jay tells me in a strong tone. Immediately I feel a rush of heat between my legs. I'm amazed that I'm still standing…
Tiff has led me in front of Jay. He tells her she's done a wonderful job dressing me and will be well rewarded. I'm smiling like an idiot and nod my head wildly in agreement. Jay laughs. It's a sexy sound. I want to make him do it more…
I feel Tiff carefully twist my hair and pin it up off of my neck. Next, she undoes the clasp on my dress and drops the lace, exposing my breasts.
I hear a rumble of appreciation from Jay and my nipples strain even more for his touch.
Jay says, "Tiff, give her some relief. Touch her nipples, play with them however you want, but don't let her come."
She starts by barely brushing her fingertips over my breasts, not quite reaching my nipples. Goosebumps break out all over my chest. She leans in and starts kissing my jaw, my neck…working down to the jewelry clamped to my nipples.
She quickly flicks her tongue over my nipple and I gasp, open-mouthed. I start panting, wanting more. Tiff keeps teasing, alternating between nipples.
The sensations are so intense, I have to grab onto Tiff's shoulders to keep from falling over. At that moment, she sucks a nipple into her mouth. Oh. My. God. Her mouth feels like heaven…so hot, wet, gentle. I start moaning as she circles the nipple with her tongue. She's gently fondling the other with her hand. My grip on her shoulders tightens…I'm about to come. Just before I do, she severs all contact. I'm literally left hanging, panting, desperate.
My eyes are wrenched shut and I'm trying to regain control when I hear Jay call me. I open my eyes and lock onto his. He's exactly how I pictured…handsome, debonair, and just radiates sexuality. My mouth waters at the sight of his erection as it strains at his slacks.
I wet my lips with my tongue and find myself nibbling my lower lip. A slow, sensual grin spreads across his face as he drawls, "Stop biting your lip, Shoshi. You're driving me crazy."
Smiling wickedly, I do as I'm told and release my lip. I start to close the gap between us, reaching out to touch Jay. Tiff stops me with an arm around my waist, telling me "No touching."
My eyes widen as Jay nods in agreement. "What?" I ask.
"She's right. There'll be no touching between me and you. Not tonight."
"But…"
"No. Be a good slut and don't argue."
I whimper in protest, but agree, nonetheless, nodding my head.
"Show me what else is under that dress," Jay orders.
I lower the zipper and slowly let the dress fall to the floor, exposing the rest of the chain, the garter belt and stockings.
"Very nice, Shoshi. Now, show me the end of the chain. Spread your legs and hold your pussy open."
"Like this?" I ask, standing with my legs apart, holding my labia open and exposing my clit.
"Exactly. You're nice and wet, just like a good slut," he says. "Tiff, continue, please. And still do not let her come."
I look over and see that Tiff is beautifully naked and walking towards me. She eases me down onto an ottoman. She positions my arms behind me so that I'm leaning back on my elbows with her between my thighs.
Tiff starts on my tits again, bringing me to the edge of orgasm and backing off again and again. I'm panting with need as she kisses her way down my stomach to the apex of my thighs.
Slowly, she kisses down my leg and back up, skipping over my pussy to the other leg and repeating.
"Please…" I groan.
"Please….what?" asks Jay.
"Please touch my pussy, Tiff! Please!"
"Ok, Tiff. Whenever you are ready, go ahead." Wait. What? Did he just say that Tiff can keep teasing me if she wants? Oh……..
She does just that. Her kisses get closer and closer, but still she doesn't touch me. My lips are swollen and pink. My pussy is glistening with wetness and I'm shaking all over. I need to come. Desperately.
Tiff has other ideas, though. She moves up and kisses me. I open for her. She kisses so wonderfully. Soft, sweet, sexy. Our tongues explore, swirling around, lapping against each other. Tiff's arms wrap around me and move me to the floor. She eases me on top of her as she lies on her back. Her hands move to my shoulder and start pushing, like she wants me to move down her body. So, I do.
I kiss, nip and nibble my way down to her chest. I lick my way to her left nipple and flick it with my tongue. She groans, so I do it again. And again. Then, switch to the other side.
Once both nipples are taught, I draw one into my mouth and tease it with my tongue. Her mouth opens slightly as her breath quickens. I lavish attention on the other nipple and start to move my way down…down…down.
I blow gently down her pussy, making her shiver. Slowly, I open her lips with my fingers. She's pink, swollen and wet. I dip a finger into her wetness and groan. I want to taste her.
No teasing, I just dive right in and penetrate her with my tongue. She's so sweet!
She gasps at the invasion and swivels her hips to my mouth. I lick up to her clit, sucking it into my mouth and gently flicking it with my tongue. I continue sucking and licking until she's squirming. Moving my finger to her clit, I lift my head and ask, "Jay? Can I make Tiff come, please?"
Jay has his cock out and is stroking it. I am momentarily mesmerized by it. I want that cock…in my mouth, in my pussy, in my ass…
Jay's voice brings me back. "Yes. Make her come. As much as you want.," he smiles.
My grin widens and I go back down. My mouth moves onto her clit and I insert first one finger, then two, inside her. Slowly fucking her with my hand and tongue, I feel her tightening. My fingers curve up and hit her g-spot, rubbing firmly in rhythm with my tongue on her clit.
Her first orgasm slams into her as her inner walls grip my fingers and she squirts into my mouth. Heaven!
I keep my fingers and tongue going and she comes twice more before begging me to stop.
I ease back onto my heels and just watch her recover. I glace over at Jay, who's still stroking his VERY hard cock.
When she's finally recovered, Tiff says, "Shoshi, on all fours, facing Jay." I comply, happily.
The jewelry is adding an amazing weight to my nipples and clit and I arch into the feeling.
I feel Tiff's hand on my back, sliding gently to my ass. She fondles my ass for a moment and then slides on to my clit, grabbing some of my wetness on the way. Her fingers tease around my clit, getting me hot and even more turned on. She runs her fingers to my opening, getting them covered in my juices.
Her hand moves away from me and I strain towards her. Next, I feel her wet fingers on my ass. Slicking up the tight hole, softening it, loosening it. She slips a finger in. I groan and push into her. Gradually, she works up to 3 fingers and I'm on the edge of coming. She can feel it and stops moving.
I've closed my eyes and dropped my head, so I don't see Jay move. I feel Tiff's hands in my ass and on my back, but I feel something else trailing down my spine…something metal and warm. It feels good and I arch into it, wanting to increase contact.
The object moves to Tiff's fingers in my ass. She slowly removes her fingers and the object, which I've since decided is a butt plug, replaces them, giving me a warm, full feeling. I moan in pleasure. I'm biting my lip and moving my hips to increase sensation.
I hear Jay very close by, telling Tiff, "Don't hit her clit directly. She can't come yet," and I only then see that she's below me, with her head on a pillow. She's smiling and reaching for me.
As her mouth connects with my pussy, I feel Jay's hand run up my back. I press into Tiff's mouth as I see Jay resume his position on the couch, but he's now naked and a glorious sight with his cock standing proudly. He strokes himself as Tiff eats me.
She's got me on the edge…again. My clit is throbbing, aching to be touched. The extra weight of the charm and chain have me all the more turned on and I am almost in pain with need.
In the distance, I hear Jay say, "Ok, Tiff. Now."
Tiff's mouth closes on my clit as she inserts three fingers into my pussy. I come immediately. Loudly, hard, wet. Then, she's gone. No touch at all.
When I open my eyes, I see Jay kneeling in front of me, stroking himself. There's pre-cum glistening on the head of his cock. I want it in my mouth and lick my lips with anticipation, but he's too far for me to reach him. Just as I start to move to him, Tiff grabs my hips and I feel something at my opening.
Tiff's wearing a strap-on! I've never been fucked with one but I want to be. I groan and push back, hoping to get the dildo inside me. Tiff moves back as much as I do, keeping just the tip at my opening. "Hold still," she says, "then I'll fuck you."
As difficult as that seems, I do it. I want, no….NEED to be fucked. Now.
Slowly, she starts to slide the dildo into me. It feels so good! She stops when she's in to the hilt, letting me get used to the feeling of being filled in both holes. I'm flying and it takes all my concentration to NOT thrust back.
Finally, Tiff starts fucking me in earnest. She's really good at it! I can't believe how amazing this feels.
Suddenly, I remember that Jay's jacking off in front of me, and I open my eyes to watch him. Between that amazing, sexy sight and the cock moving in me, I'm on the edge again.
Jay's mouth is slightly open and his breathing is shallow. His hand is moving more insistently on his cock. I can see him get harder as he nears orgasm. I feel my own coming on and fight to keep my eyes open.
As my orgasm explodes through me, I see Jay shoot cum. What a glorious sight! It sends me over the edge again. When it's over, I collapse on the floor. I'm spent.
As I'm trying to find my way back to reality, I hear Jay at my ear, "Beautiful. Well done, Shoshi. I've called Greg, and he knows you're staying here tonight. The middle room is yours. I'll see you tomorrow…then, we'll fuck."
What Jay has said takes a while to sink in. By the time it has, he's nowhere to be seen. The sitting room is dimly lit by just one lamp and the middle room is the same.
Tiff helps me up and to my bed. There's a small suitcase with a few of my things on the chest near the window, and I have no idea where it came from…
Tiff says goodnight and closes the door.
As I drift off to sleep, I'm thoroughly sated, but looking forward to tomorrow…