Podcast: Play in new window | Download (Duration: 40:01 — 18.4MB)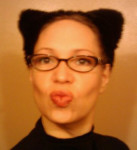 Jon and Sind are back from "Dark Odyssey:  Surrender", a 3 day event in San Francisco with training, demos and play-parties with the who's-who of kink. They visited classes on "fisting", "scene negotiation", "rough sex" and "erotic publishing", which are just a small part of what was available.
After Mistress SinD gets her first take of receiving a whipping, we interview "Zemis", master (and instructor) of the single-tail whips and various other sorts of mindfucks. We discuss mediation by whipping, perverted clowns and sonic booms.
We talk latex with Penny from Lust Designs: how she designs the outfits (from mermaids to bowling shirts), how to pick them, how to lube up and get into them.
Every good kinkster needs a kilt (or a couple), so we hang out with PD Kilts and try out their warez, so we learn about the different styles and weights of kilts.
Podcast recommendation: Los Swingers, a podcast in Spanish and English about a  couple's adventures in the swinging lifestyle.  They also do great jello shots. Update 2015: Sadly, the podcast no longer exists.

This slideshow requires JavaScript.