Podcast: Play in new window | Download (Duration: 43:41 — 20.1MB)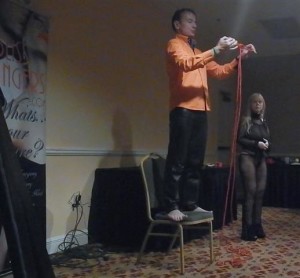 Villain Jon heads to one of the largest swingers events in the country, to spread the gospel of bondage and kink.  We debrief with Brian and Tangerine from Tangerines Dream about the event the parties, the "poker runs", dances and events.
Jon talks about the workshops, demonstrations of flogging, electric play  in the dungeon and the problems of teaching an entire room of crazy swingers to tie each-other up.
His shenanigans were also documented by "We Gotta Thing" and "Swinger Diaries".
Check out Bob's interview to find out more about "Naugthy in Nawlins", or sign up now to reserve your spot for the next event!
Find Tangerine on twitter as @TangerinesDreamLtd via email as [email protected]  (Hit her up about parties in the bay area or workouts!)