Podcast: Play in new window | Download (Duration: 1:01:23 — 28.2MB)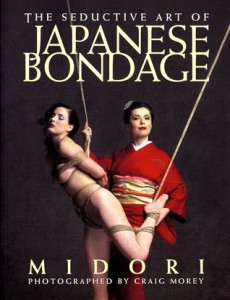 Midori is a sexuality
author
, speaker and educator who teaches about alternative and adventurous sexual practices, including the sensual art of bondage and BDSM. She grew up in Tokyo until her teenage years and was raised with feminist values. Midori has a degree in Psychology from Berkeley University and she served in the US army reserves as an intelligence officer. She's an educator and columnist on adventurous sexuality, is a published book author and has a couple of DVDs available. Her mission as a world traveler in presenting to universities and educational seminars encourages self discovery and personal growth. Midori is a world renowned Shibari rope bondage instructor, kink educator, safer sex practitioner and a sex positive activist. When she's not on tour or instructing sold out classes, Midori is a performing & installation artist in San Francisco. She's also known for being a foodie and has a humorous warm personality. She is well respected for her long time volunteer efforts and fight against AIDS--her goal is to see this decease wiped out and prevent any more loss of friends & family members; Last month she volunteered as a Roadie in the Cycle for Life tour in California.
We down with her for dinner after she appeared on Dan Savage.  Our  interview touches on a variety of subjects:
Midori talks about getting started in the city of San Francisco, how stumbling into being a sex-educator made her discover her public speaking capabilities.  For the first time she publicly discusses how rope work can trigger a meditative or hallucinogenic state for the people involved in the scene. A sofa made out of blowup dolls. Comfort station: Boob headphones.  How art exposed oneself more than "regular" play. Shoutout to
"Miss Genevieve", which we interviewed earlier
.  Kink and  BDSM is just "cops and robbers", with your pants off (Quote courtesy of Dan Savage).  The importance of having good safewords, that one can remember, speak and hear! Tips for "beginner kink" and practical bondage tips. A good tool for people getting started is the
special bondage tape
which can be applied without special skills.  Check for tingling feelings or signs of numbness when playing.  Fortefemme can get you "drunk" on "topspace", and there will now be alumni  meetings. Biking to raise awareness and funds for HIV and AIDS.   The "barebacking" (consensual and non-consensual ) during swinger or poly events and the associated "magical thinking is frowned upon.  Midori explains how her herpes saved her life, because having an STD forces one to explicitly negotiate the safety aspects of sex and become a more "responsible slut".  Everybody should practice putting on a condom with their mouth (its also sure to get you laid).  Social media is full of food porn and naked pussies.
This version of the interview has been edited to fit within the time format.  The full, uncut version will be released separately for those who want the background information.
Upcoming events and activities:
This slideshow requires JavaScript.