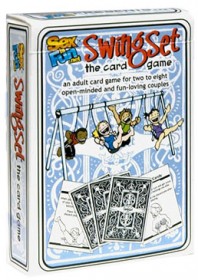 Swinger parties are sex parties. We all know that.  But even if everyone knows what will ultimately happen, someone needs to start the action.
It's not always easy to know when or how to get things going.  Sometimes, people are coy, maybe not wanting to seem overly eager (why not?).  We are not all equally gifted at getting things going.
We've been to a few house parties in our local scene where you've got a whole bunch of sexy people in a room, drinking and chatting and chatting and drinking. And a couple of hours later you still have a whole bunch of sexy people hanging out, chatting and drinking, drinking and chatting.
No one wants to make the first move.   Or a couple of people slip away quietly upstairs, which is fine, but for some of us (me), the real fun happens when the sex starts happening right there and everyone is a part of it.
Slipping away to another room might have its place, but it's a sex party, dammit. Where's the orgy? Yes, flirting and foreplay is hot. It makes me wet, gets me excited about the prospect of who I have my eye on to play with later. It's all a part of the fun.  But let's assume that most of us want to move on from appetizers to the main course and dessert.
Recently, on an eight day sailing vacation with five sexy swinger couples, a sixty foot catamaran, and day after day of pristine waters, beautiful coves, and perfect winds, we experimented with a few different ways to get the party started. Continue reading →